FRIDAY, MARCH 20, 2015
THE JAMES DOUGLAS STUDIO
Teachers Laura Ross and Justin Glanville
Click through photos of the event here ↓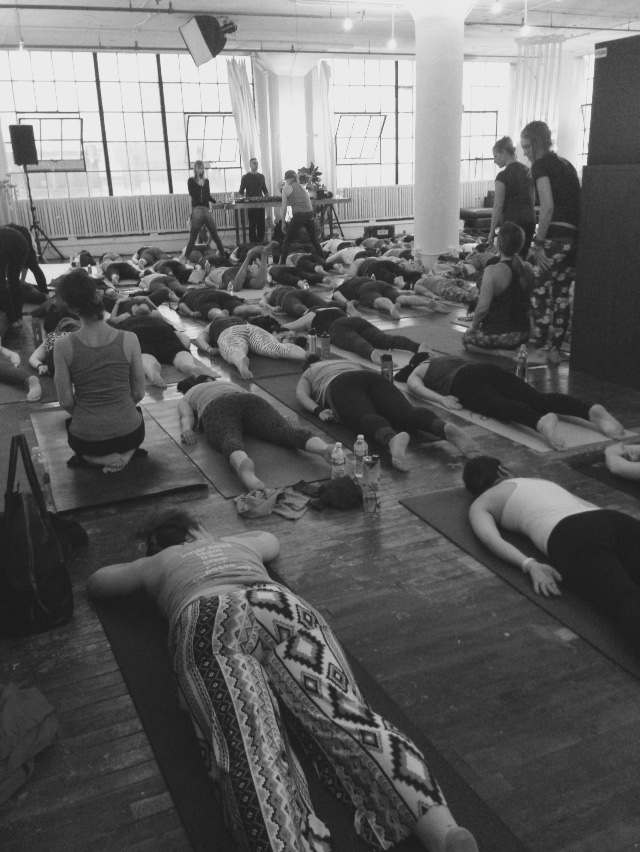 We POPPED UP at a cool space in our cool city!
The James Douglas Studio is a working photography studio that has hosted many of Cleveland's high profile and interesting souls who have left behind some magic energy that we we able to soak up!
This artist's haven is a corner of Cleveland with a killer view and a sweet, rust belt chic vibe. DJ Rimon was spinning the tunes, Justin Glanville and Laura Ross taught the yoga, and our CLE Believers filled the space with high spirits and open hearts. We cleared the gear, open the space, and welcomed the bodies and breath of 100 CLE yogis.
Justin and Laura are an experienced and dynamic teaching duo with a super synergy and common passion for the practice of yoga and the city of Cleveland. These two yogis are committed to Cleveland through their work off the mat, as well; Justin, author of New to Cleveland and Biking in Cleveland, lifts up the city with his CLE-centric writing and Laura has grown the CLE vegan landscape with her Lakewood-based business, Cleveland Vegan. They are each invested in this town and have planted roots here.
Our friends from Nooma showed up with their yummy hydration beverages, as well as Anna in the Raw with her healthful vegan goodies.