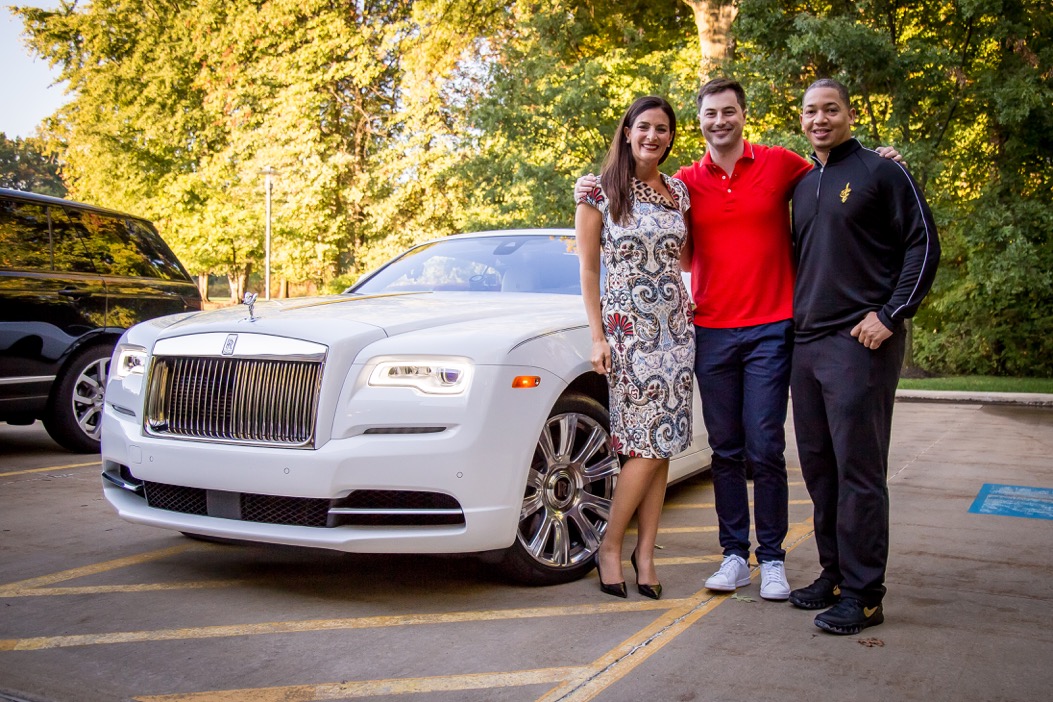 What has Andrea Been up to these days? Spreading the Spirit of our city in Fancy Cars - with other big name Believers!
Believe in CLE: What is Driving Cleveland?
Andrea Vecchio: Driving Cleveland is a web series that features people who are driving ideas, entertainment, innovation, revenue, and positivity into Cleveland! The concept is simple and fun; we mount cameras in cool cars, hit record, drive the streets and highways of CLE, and have honest and real conversations with guests like Michael Symon, Tristan Thompson, Joe Thomas, Rover, Dominique Moceanu, Coach Ty Lue and more!

BIC: How did the concept evolve?
AV: I had the idea for a show like this several years ago when I was trying to redefine my professional life (I lost my job in television and didn't know what to do next). Shows like "Carpool Karaoke" and "Comedians in Cars Getting Coffee" didn't exist at the time. But like so many ideas that many of us have, the "Driving Cleveland" idea just sat in my brain with no movement. I dreamt it, but I wasn't doing anything about it.
After four years of dreaming, I was given a "nudge" to contact Bernie Moreno, President of Bernie Moreno Companies. Bernie literally and figuratively changed the course of my professional journey. I knew this Cleveland businessman was forward-thinking and an innovator. And best of all, when Bernie has an idea, he's a DOER! Bernie gets things done! He loved the concept and knew what to do to make it successful. We discussed ideas, developed the series together, and within a few months, we were off and driving (in really cool cars, with amazing guests)!

BIC: Who are some of the Cleveland personalities you've 'driven' with?
AV: Our dream guest is LeBron James. And I know that one of these days, it will happen. The contributions James has made to Cleveland are incredible. There's so much to learn from James off the court about what drives him as a father, a businessman, an athlete, and a human being. Not all of our passengers will be celebrities. What we all know about Cleveland is that there are some impressive minds driving our city!

BIC: What is your favorite part of doing this series?
AV: I was an interviewer in broadcast television for 16 years. Having real conversations with interesting people was my favorite part of the job. What I love best about Driving Cleveland is that we have a mobile "studio" with no bright lights, no microphone wires, and no studio commotion - it's just me, the guest, and the road. There's something that happens when you're cocooned inside of a vehicle; it's safe, unguarded, truth serum.
I have one rule, and that is for all of my passengers to feel comfortable. This is not a ride that's meant to find the tabloid side of their story. It's meant to be fun, interesting, honest, and sometimes therapeutic.
 
BIC: What lies ahead for Driving Cleveland?
AV: Driving Cleveland was a success from the first episode! And we plan to continue the ride in our great city! We hope that everyone will check out what we're doing on YouTube, or give us a like on Facebook by searching Driving Cleveland. And please share with your friends. We want to spread the word on all of the great people, businesses, and programs that are right here in 216!
 
BIC: What are your thoughts on Cleveland's progress and surge in popularity?
AV: I was born and raised in Elyria. Many of my great childhood and adult memories happened on the suburban streets and in the neighborhoods of Cleveland. I was recently recording a "Driving Cleveland" episode with Chef Michael Symon. We were reminiscing about what Cleveland was like when we were kids. I remember the first time I went downtown with my parents to Sammy's in the Flats (no longer there). I was so excited to put on my prettiest dress and order shrimp cocktail (an appetizer that my 10-year-old-self thought was the most expensive item on the menu).
As I got older, I started traveling for work and visiting many of the great restaurants and cities around the country. My travels took me to New Orleans, where a tour guide quoted American writer Tennessee Williams who said, "America has only three cities: New York, San Francisco, and New Orleans. Everywhere else is Cleveland." I wish Mr. Williams could see Cleveland today! We have great culture, competitive sports teams, true grit, a growing nightlife and dining scene, world class medial care, and heart. I believe he'd be impressed with Cleveland...especially if we were driving him around in a Rolls Royce.
Catch Driving Cleveland with Andrea Vecchio on the Bernie Moreno Companies YouTube channel, or find the episodes on facebook.